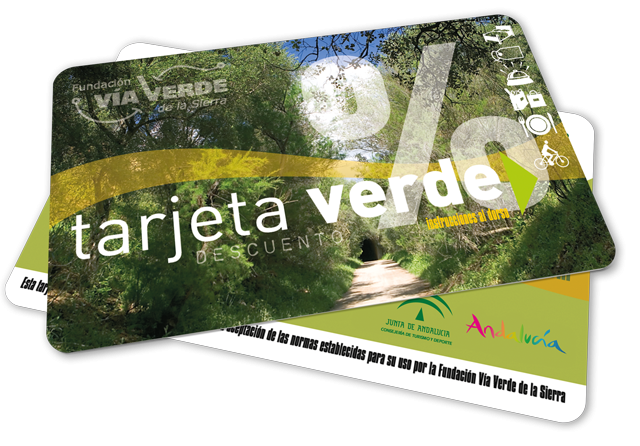 Your card has lots of advantages
Take advantage of your visit with discounts
The Green Card program is a program of the Foundation of the Sierra Greenway and aims at promoting both the Sierra Greenway and the private companies that provide services along it or in any of the following towns: Olvera, Pruna, Puerto Serrano, Montellano, El Coronil and Coripe.
Six thousand applicants currently have this card, which they received by post. At the moment, no more users can subscribe, but their owners can still continue  benefiting  from their advantages by means of discounts on their purchases or consumption (20%, 15%, 10% or 5%).
Which companies are adhered to the program in this moment?
You can check it out by consulting the list on this same web, in the leaflets of the Foundation of the Sierra Greenway and by identifying the establishments through these stickers that they will show in their facilities.
Remember:
The Green Card is personal and non-transferable and must only be used by the owner (cardholder). However, in the case of bars and restaurants, the discount will be applied to the consumption of the entire table and not only to the cardholder (if the cardholder pays the bill). In the case of accommodation, the discount will be applied to the room used by the owner.
You also have to keep in mind that the advantages and discounts offered by the card will be accetable in all establishments included within  the program, except in the municipality of origin of the person who owns the same one.
Guardar
Companies become adhered to the program
Take advantage of the discounts that your Green Card offers