The Sierra Greenway
Welcome to Nature
Between the Mountain of Cádiz and the South Mountain of Seville
The Sierra Greenway passes through the old Jerez-Almargen railway line. Currently, there are 36.5 Kms accessible connecting the towns of Puerto Serrano and Olvera. Along this route you can enjoy  a great variety of landscapes, observing the transition between an agricultural landscape and another one mountainous, alternated with masses of Mediterranean forest (holm oaks, carobs, carob trees, mastic trees, wild olive trees, etc.).
In these landscapes, water is the common denominator, following the course of the rivers Guadalete and Guadalporcún, where we find a very diverse vegetation (ash trees, white and black poplars, grazings, oleanders …) This is an ecotourism itinerary to carry out on foot, by bike, on horse and even on a donkey, which will allow the hiker to contemplate a lush type of Nature, valuable animals and vegetable species and landscapes of dreams. At the disposal of the users of the Greenway are a multitude of infrastructures and equipment that make the visit more pleasant.
The old train stations of Puerto Serrano, Coripe and Olvera – in bad condition over the years – have been rehabilitated and are being run as restaurants and tourist accommodations. Next to the Rock of Zaframagón, there is a halt with the same name, which has been rehabilitated and put into operation as Zaframagón Interpretation Center and Ornithological Observatory.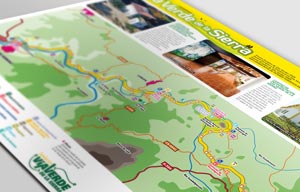 Leaflet – map

Unfoldable map of Sierra Greenway (spanish / english)
Download